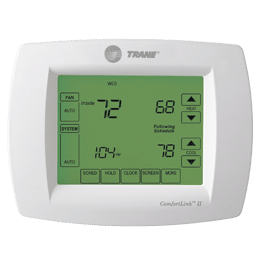 ComfortLink™ II communicating capability 
Connect all of your key components through ComfortLink™ II communicating technology, so your system automatically charges, configures and calibrates for optimal performance through the lifetime of your products.
Reliable Operation 
In addition to the benefits of the precise calibration and maintenance alerts of the communicating system, materials for all components are tested again and again for long-lasting performance and reliability.
Effortless programming 
A clear, menu driven setup makes programming quick and easy.
Every Trane Thermostat is packed with high-quality components. Each helps ensure that time after time, your unit will provide total comfort your family can rely on. The XL900 Series 7-day Communicating Programmable Comfort Control includes:
7-day programmable and Energy Star qualified
ComfortLink™ II compatibility
Diagnostic alert light
Critical error codes messages let you know if a problem arises
Bright back-lit display with interactive touch screen
Programming functions stored in permanent memory
Auto changeover
Programmable fan
Filter change reminders
Humidifier pad change reminder
Humidity sensor
Dehumidification control
Keypad lock
Built-in outdoor temperature sensor
Dual-fuel compatible
Trane XL900 Registered Limited Warranty Details
Registered Limited Warranty terms are available if the product is registered within 60 days of installation. Registration can be completed either online at Trane.com or by calling 800-554-6413. Trane's Registered Limited Warranty terms include:
10-year Registered Limited Warranty on internal functional parts
If the product is not registered within 60 days of installation Trane's Base Limited Warranty terms will apply.
An option to purchase transferability of your Registered Limited Warranty is available. For more information, click here.
Optional Extended Warranties are available. Extended Warranties can pay for labor and other costs not covered by manufacturer's limited warranty.
Ask your dealer for full warranty information at time of purchase. Warranties are for residential use only. Some exclusions may apply.