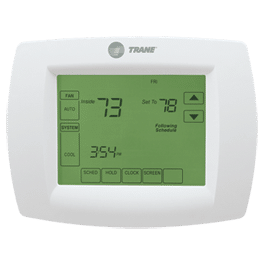 Flexible comfort control 
Set your thermostat for seven-day programming you can copy, 24-hour programming or manual operation.
Reliable operation 
Will retain memory, has a real-time clock and changes for Daylight Savings Time.
Memory capabilities 
Your programming function can be stored in permanent memory.
Every Trane Thermostat is packed with high-quality components. Each helps ensure that time after time, your unit will provide total comfort your family can rely on. The XL800 Deluxe Programmable includes:
Bright back-lit display with interactive touch screen
Armchair programming with removable screen
Filter clean/replacement key
Programming functions stored in permanent memory
Manual or auto changeover
Minimum compressor runtime
3 to 10 degrees Fahrenheit "dead band" between heating and cooling set points in the "auto" changeover mode
Conventional or adaptive intelligent recovery
Min and max heating and cooling ranges
Daylight Savings Time key
Programmable fan can be programmed in the "on", "auto" or "circulate" mode for each period
Vacation/leave program will hold vacation/leave temperature for up to 256 days
Five-minute time delay for compressor protection
Outdoor temperature display
Single-stage heat (gas or electric), single-stage cool
Trane XL800 Registered Limited Warranty Details
Registered Limited Warranty terms are available if the product is registered within 60 days of installation. Registration can be completed either online at Trane.com or by calling 800-554-6413. Trane's Registered Limited Warranty terms include:
10-year Registered Limited Warranty on internal functional parts
If the product is not registered within 60 days of installation Trane's Base Limited Warranty terms will apply.
An option to purchase transferability of your Registered Limited Warranty is available. For more information, click here.
Optional Extended Warranties are available. Extended Warranties can pay for labor and other costs not covered by manufacturer's limited warranty.
Ask your dealer for full warranty information at time of purchase. Warranties are for residential use only. Some exclusions may apply.