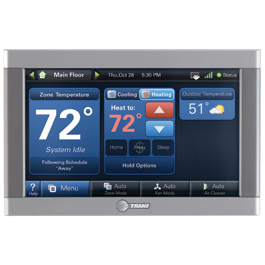 Technological innovation The Trane ComfortLink™ II control is an advanced command center that puts your comfort literally at your fingertips. It's the product that Popular Mechanics dubbed one of "The Year's Most Transformative Products," awarding it their 2010 Breakthrough Award.
Perfect air in perfect harmony Connect your ComfortLink™ II control to a matched Trane system for complete, seamless comfort. Every component is designed to work in harmony with the others, optimizing your energy use over time.
Contact and control Not only does the ComfortLink™ II monitor indoor and outdoor temperatures, so you can adjust your system to be energy-efficient, but it also tells you when it's time to change a filter or schedule routine maintenance.
Key features
7" color interactive touch screen that turns into a digital picture frame
Intuitive user interface with communicating capability
Room-by-room control
5-day weather forecasts and live weather reports
Remote access via internet-enabled computer, smartphone or tablet
The ComfortLink™ II control is an innovative and intuitive touch-screen product that is compatible with Trane products as well as any other brand of standard central heating and air conditioning systems. It is a fully upgradeable unit, and as updates become available you'll be able to push the capabilities of your control even further.
Custom control and scheduling Bright, colorful icons guide you to every important system function with just a simple touch. Create heating and cooling schedules to save energy when no one is home using either guided or manual setup.
Live weather and dealer contact The control uses your wireless network to gather and display live weather data, including forecasts, radar images and weather alerts. If your system needs routine maintenance or repair, the control can display your dealer's contact information for greater convenience.
Energy efficient Monitor indoor and outdoor temperatures and your system use over time to better manage energy and comfort.
Air quality The control will remind you when filters need to be changed, and alert you if maintenance is required. The Quick Clean and Allergy Clean cycles act as a temporary boost to your air filtration.
Remote access Your ComfortLink™ II control is accessible at home or from anywhere by internet-enabled computer, smartphone or tablet.
Digital picture frame When not in use, the ComfortLink™ II can display a single photo or an entire slideshow. The unit also offers customizable home screens and a variety of optional bezels to match your home's style.
Trane ComfortLink™ II Registered Limited Warranty Details
Registered Limited Warranty terms are available if the product is registered within 60 days of installation. Registration can be completed either online at Trane.com or by calling 800-554-6413. Trane's Registered Limited Warranty terms include:
10-year Registered Limited Warranty on internal functional parts
If the product is not registered within 60 days of installation Trane's Base Limited Warranty terms will apply.
An option to purchase transferability of your Registered Limited Warranty is available. For more information, click here.
Optional Extended Warranties are available. Extended Warranties can pay for labor and other costs not covered by manufacturer's limited warranty.
Ask your dealer for full warranty information at time of purchase. Warranties are for residential use only. Some exclusions may apply.