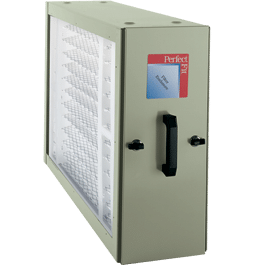 One cabinet, three options 
A Trane Perfect Fit™ filter is an integral part of a Trane home comfort system. If you start out with a pleated or media filter, you always have the option to add the Trane CleanEffects™ air filtration system. And, regardless of the filter you choose, all of the filters are easy to access and maintain.
The right choice 
When considering which filter is appropriate for your home, consider your lifestyle. How much time and money are you willing to spend on replacing filters? Would you prefer to have a filter you can clean yourself? And, what kind of effectiveness are you looking for? For help with these and other questions, use the product comparison feature or find a dealer near you.
Perfect Fit™ 5″ Media Filter Features
Up to 15 times more effective than a standard throwaway filter
Available in a variety of sizes
Easy to replace
Helps maintain the operating efficiency of your home comfort system
Filters 100% of the air that is heated and cooled